Supporting St Andrew's College of Theology and Development in Kabare, Kenya
This year's Bishop of Chelmsford's Lent Appeal will be raising funds to support St Andrew's College of Theology and Development in Kabare, Kenya.
The College plays a key role in providing residential training for new clergy and lay leaders for all five of our partner dioceses in Kenya. The College also serves its local community with courses in theology, business and ICT.
Chelmsford Diocese has a long history of supporting the College dating back to the 1980's when we were able to support the construction of the library, which was then named the Chelmsford Library. More recently, our Lent Appeal in 2019 supported the installation of a gravity-fed freshwater system for the campus, which was no mean feat as the college stands on the top of a hill! Making use of the reliable water supply, this year's Lent Appeal seeks to raise funds to improve the shower and toilet facilities for students. The current accommodation blocks are old and have very basic facilities with no hot water. The college had only nine students when these facilities were built and now there is overwhelming demand with more than one-hundred and fifty students using them.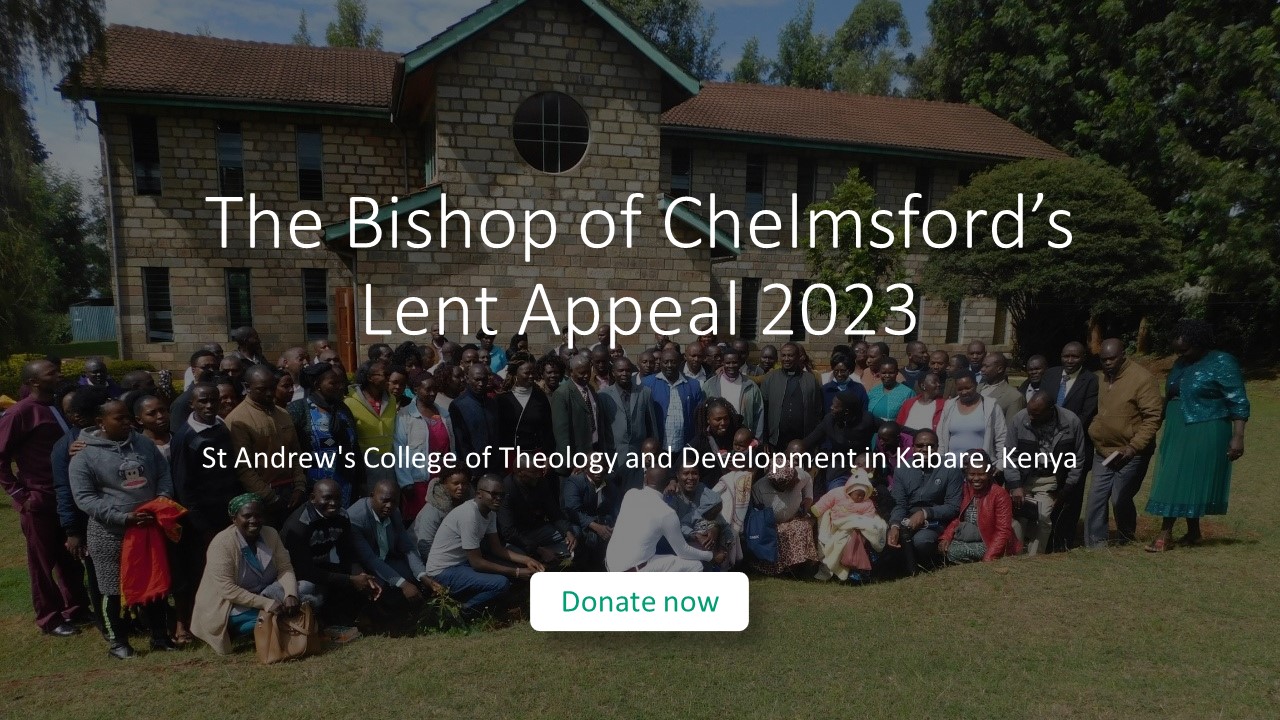 Through local fundraising efforts, over £3,000 has already been raised for the improvements. The Bishop of Chelmsford's Lent Appeal is seeking to raise an additional £15,000 for the project.
Commenting on this year's Appeal, the Rt Revd Dr Guli Francis-Dehqani, the Bishop of Chelmsford said: "This year's Lent Appeal will provide an opportunity for people in our Diocese to make an important
contribution to the life of St Andrew's Theological College and with that, the Mission and Ministry of the Anglican Church in Kenya. St Andrew's College has been a key partner in the relationship with our five partner Dioceses of the Mount Kenya East region. The funds raised through your donations will have a positive impact on the health and wellbeing of current students and help to attract new students to the college in the in future."
Here are some simple things you can do to help raise funds for The Bishop of Chelmsford's Lent Appeal 2023.
Help us spread the word
Resources to help you share details of the Appeal are available at the Diocese of Chelmsford website at www.chelmsford.anglican.org/lent-appeal. Downloadable images, graphics and suggested social
media copy is also available to help you spread the word about this year's appeal through your social media accounts.
Donations
Donations can be made online or by bank transfer. If you would like to make a donation to The Bishop of Chelmsford's Lent Appeal by bank transfer, please use the following details:
Chelmsford Diocese Board of Finance
Barclays Bank
Sort Code: 20-20-35
Account Number: 60269603
Reference: Lent Appeal 23
To donate online visit: www.chelmsford.anglican.org/lent-appeal.
Donations will be accepted until 1 July 2023.